Are you faced with a design challenge because you're not quite sure about the window treatments for the kitchen, bathroom and laundry in your home? This article be just what you're looking for.
There are various types of window treatments, which are categorised as either shades or drapery. Shades include roman shades; roller shades; pleated shades; honeycomb or cellular shades and solar shades. Drapery includes ripple fold drapery, tailored pleat drapery, pinch pleat drapery, grommet drapery, inverted pleat drapery; goblet drapery; cubicle drapery; rod pocket drapery; and sheer drapery.
When it comes to window treatments in homes, kitchens, bathrooms and laundry rooms do not always receive the same attention as living rooms, family rooms, dining rooms or bedrooms. By including these rooms in your hunt for stylish window treatments, you will enhance these spaces and your home.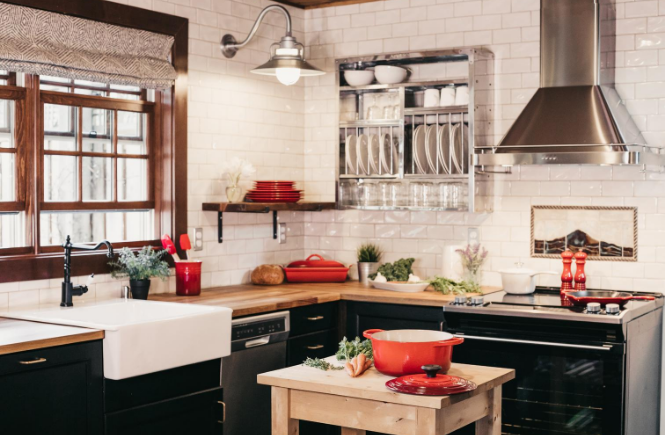 Kitchen Window Treatments
The kitchen a lively space in the home because it is where meals are created and where families congregate. The basic kitchen contains a sink, a stove and a refrigerator. Elaborate kitchens (including gourmet kitchens and chef kitchens) may have pantries, range hoods, islands, special faucets, and innovative storage. The six main kitchen layouts are the one-wall, galley, L-shaped, U-shaped, island and peninsula.  Window treatments in the kitchen should be strategically located so that they do not create safety hazards. Treatments can provide privacy and can change the ambiance of the room.
In this stunning gallery of window treatments, there are several options to make your kitchen window a focal point. The article suggests using adjustable shades; the use of bright, patterned and textured fabrics; layering different window treatments to create a tailored effect; using plantation shutters; using window coverings that "control light" and protect "interior furnishings and materials from damaging UV rays" and using unusual window treatments and embellishments.
Because the kitchen is one of the most "highly trafficked rooms in the home", the window treatments used can make the room more even more inviting. However, the location of the window in the room, will determine what type of window treatment is used. For windows that are close to the sink or stove, sturdy window treatments that are durable and can be easily cleaned are recommended.
If your kitchen windows are located in the "splash zone", where they could come into contact with "food splatter, water, or steam", PVC based window treatments are recommended. Windows that are not in the splash zone can be outfitted with almost any type of treatment. The article suggests that roman shades, woven wood shades, faux wood blinds, faux wood shutters, and roller shutters create different effects in the room.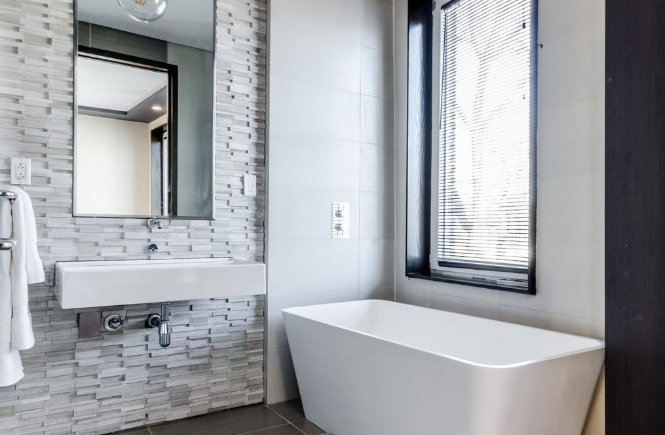 Bathroom Window Treatments
The bathroom is the room where personal hygiene activities take place. A basic full bathroom contains a toilet, a sink, a bathtub or shower (or both). An elaborate bathroom, also known as a master bathroom, may contain a bidet, double sinks, a separate tub and shower. Half bathrooms contain two of the three or four components in the full bathroom. Also known as the powder room or guest bathroom, the half bath normally contains a toilet and a sink. Windows in bathrooms may be small and windowpanes may be frosted. Window treatments installed in this space provide privacy.
The bathroom is a space where "heat, humidity and moisture" coexist. According to Next Day Blinds, these three elements limit the types of window treatments that can be used in the bathroom. As a result, bathroom window treatments should be moisture resistant and heat resistant. The article recommends faux blinds; honeycomb shades; and vinyl shutters. It also advises to avoid wood blinds, soft roman shades, aluminium mini blinds in the bathroom.
Bathrooms should always be considered when selecting window treatments for the home. Blinds Galore advises that window treatments for bathrooms should be durable, ensure privacy and allow for light control. As a result, they have suggested seven window treatments for this small, but important space. Roman shades, faux wood, woven woods, café curtains, vinyl shutters, valances and mix and match options are recommended.
Better Homes and Gardens explores a wide array of bathroom window treatments including shades, roller blinds, curtains and shutters. For low maintenance and durability, shutters are proposed. To block out light and keep out the cold, roller shades use roller shades. To maintain privacy and let in natural light, you can combine shutters and curtains. Fabric window treatments can change the ambiance, create a luxurious room and add drama.
Laundry Room Window Treatments
The laundry room is the space where clothes are washed. Basic laundry rooms contain a washing machine, a dryer and a sink, however, many laundry rooms only contain the first two. Effective laundry rooms will also contain storage space for laundry detergent, fabric softener, clothes pegs, ironing board, iron and a drying rack or drying line. In some countries, the terms "laundry room" and "utility room" are used interchangeably. Window treatments in laundry rooms can ensure privacy, and they can reflect your design personality.
Laundry rooms are neglected when planning and designing home decor. Budget Blinds recommends sticking to the decor of the rest of your house. Laundry room window treatments like café curtains can provide privacy, especially if the room faces neighbours or a public space. Roman shades are recommended for south-facing laundry rooms because they allow you to make adjustments for natural light.
According to Zebra Blinds, the laundry room should be outfitted with window treatments that complement the home. If the room is small, light coloured treatments will make the room feel spacious and airy. The laundry is an extension of your home and window treatment should mimic the design. Suggestions include window shutters, laundry room cellular shades, faux wood blinds and laundry room curtains or draperies.